After a five year-long transition period, the IVDD (In Vitro Diagnostic Directive) will be replaced by the IVDR (In Vitro Diagnostic Regulation) on 26th May 2022 and will apply to all in vitro diagnostic devices marketed in EU Member States. 
The IVDR has the same basic requirements as the IVDD, but with some important improvements to modernise the current system. Compared to the IVDD, the IVDR is more rigorous, particularly with regard to risk classes and monitoring by Notified Bodies.
The new In Vitro Diagnostic Regulation aimed to ensure consistent and high level of patient safety throughout the EU member states.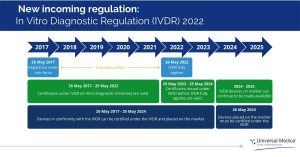 As we are near to the end of IVDR transition period, it is important to be in compliance with the IVDR.  Contact our expert today to find out more about IVDR and how you can implement it in your company.
Latest update – The European Union recently proposed to delay the deadline of IVDR transition period for certain activities due to COVID backlog. The proposal will now go to the European Parliament and Council for approval.