In 1994, the temporary use authorisation program was first implemented in France to allow early access to medicines for patients with serious or rare diseases when no authorised therapeutic treatment was available. Initially the ATU established to ensure patient access to human immunodeficiency viruses (HIV) therapies, and today it has expanded to cover all major therapeutic areas such as oncology, haematology, and rare diseases.
Prior to July 1st, 2021, the temporary use authorisation program was regulated through 6 schemes such as nominative ATU (ATUn), cohort ATU (ATUc), extension of indication ATU (ATUei), Post-ATU, temporary use recommendation (RTU) and temporary management (PECT). In order to simplify and harmonise the procedures and guarantee immediate access for patients, the new French social security financing law (LFSS) for 2021 has implemented changes to the previous ATU system.
The previous six ATU programs now has been replaced by two new systems :  Early Access Programme (EAP) and Compassionate Access Programme (CAP).
The EAP targets innovative medicines intended to be marketed in the relevant indication, while the CAP targets medicines that are not intended to be marketed in the relevant indication.
The main objectives of the new ATU programme are to
Optimise the timeframe of each step,
Set clear inclusion criteria for more predictable decisions,
Ensure better continuity of access to care for patients.
Overall, the new system will allow patients with therapeutic impasse to have access to innovative medicines in a secure framework with reimbursement.
Below is a simple illustration of the applicable changes and procedures from 1st of July 2021.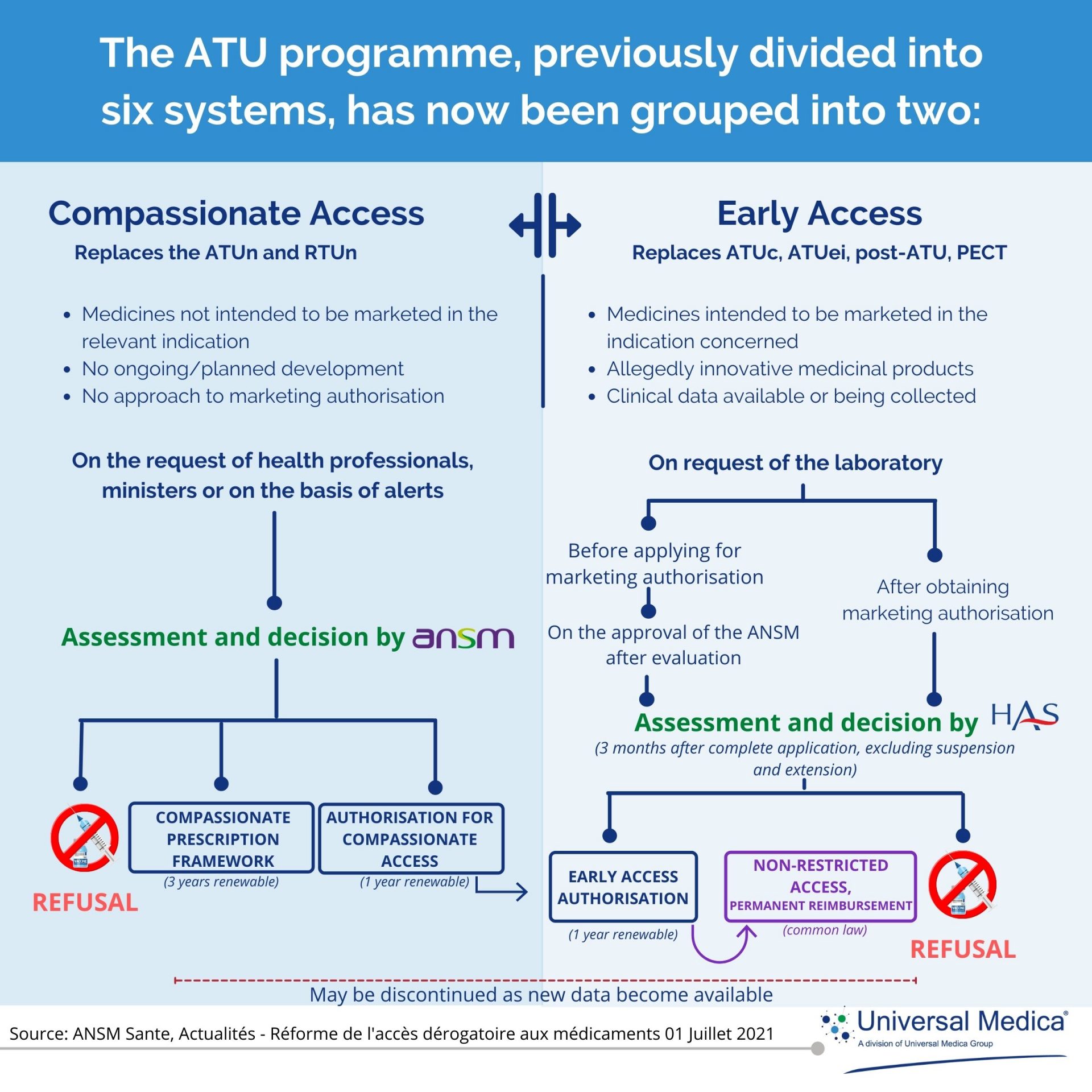 Contact our expert today to find out about our ATU management solution at Universal Medica.